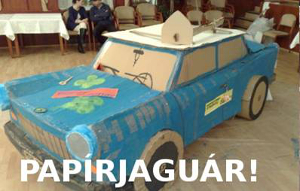 Suitable for all ages and abilities, Cardboard roadster's activities are designed to motivate people to combine their talents and perform at their best, individually and as team players. Trust, cooperation and effective communication are key to team success. In our Create a Vehicle game the teams break into smaller subgroups to build a vehicle. During the game there's no guidance, nor instructors. And there is no two ways to build the life-size motorless car. We provide simple materials such as newspapers, glues while team players figure out what they need and what they don't to gain that winning edge.
Whatever solutions the teams choose, quick collective thinking, creativity and action are critical to success. Teamwork, problem solving, clear communication and leadership skills emerge in each individual team. A very temptating result can be transported to the headquarter for exhibition.
THIS PROGRAM IS FOR YOU
If you want a few hours team building element in a conference. To make an unusual warm up before regional sales meetings. If you plan a meeting for international groups.
HEADCOUNT
20 - 200 persons
LENGTH
2-3 hours