Dear Detectives! You're unexpectedly invited to the house to find out what happend a few hours ago. It was an amazing night, the company had an entertaining night in the charity event casino, when they heard a big clatter upstairs. Nobody knows what happend, but the mess and the odd objects suggest that a crime could have happened. Trying to get evidence and witnesses you compete with othere groups to be the first who solve the case.
HOW?
Though this genre is very popular, our mystery is unlike any you have seen before. Most murder mystery games are either run by hired actors (with most participants playing the role of bystander) or out-of-the-box, one-size-fits-all pre-scripted stories where one guest is knocked off and the rest have to guess whodunit. Instead, this team building activity centers around a cluster of team building games played within the context of a high-society charity ball. You and each of your team mates select from over 100 characters to play. One character is secretly designated the thief and they "steal" the pretend millions which have been raised at the high-society charity ball. At that point the sleuthing begins.
HOW IT GOES?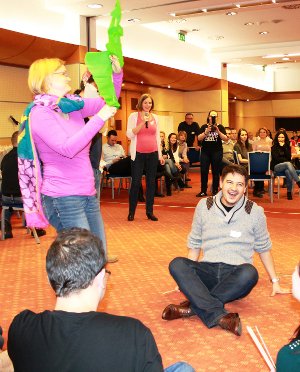 Each guest is given an envelope at the beginning of the game with various player background cards. These cards identify interesting and unique quirks, hobbies, experiences and achievements of their character. As participants mingle player cards are exchanged. The more cards a player gathers the more clues they get to who the thief might be. Thief cards (that identify the background of the thief) can be won by successfully completing team building games. Players are grouped into teams and compare their cards and clues. Teams must come to consensus and formal accusations are made as to which player is suspected to be the thief. However, before the thief is revealed there will be some surprise we can't tell now.
HEADCOUNT
20-100 persons
LENGTH
2-4 hours