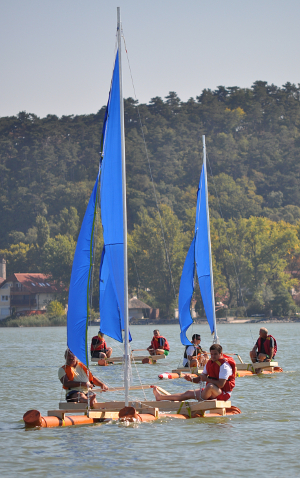 I have to premise that, the do it yourself boatbuilding a noisy, exhausting activity that seemingly does not make any sense. But if you can live with that you'll find it funny, enthusiastic and gorgeous. The first day is for building and the second is for the maiden voyage. In mild or middle wind we can practice changing tacks and enjoy the wind the sun and the water and - of course - each other.
Prior to the two day long catamaran building event we will meet in your office to present the plans. In a short video we show how the boat should look like. After forming special responsibility teams, team members will recive their task such as as mast, hulls or sails, and budgeting and project management and procurement.
A full project including planning, budgeting, stakeholders and risk and benefit analysis can be simulated with the boatbuilding traning.
Depending on the planned lifetime of your boat your task can scale from a simple assembly to a complex building including sewing sails and painting the deck. A lightweight beach catamaran requires less swearing and noise and can be packed on the top of a van. If you good at crafting, you can produce a few catamarans a day. If you want complex and long lasting hulls, the swearing factor will increase but the result will compensate you for sure.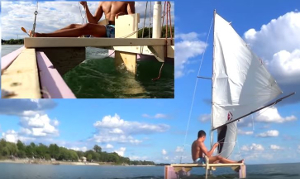 WHO IS IT FOR?
In the first place, producing and logistics teams. For teams dealing with budget contstraints and deadlines. If you just want fun this program is not for you I' afraid. /p>
WHAT IT GIVES YOU
Project manament approach. Feedback on your teamwork. Tips and practices on leading and coordinating. Memorable experience. Direct link between your contribution and your result.
HEADCOUNT
Max 20 persons