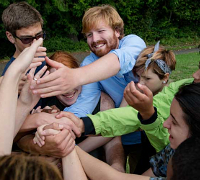 The Networking is a peculiar competition game where...
Everybody meets everybody else
Moreover, you craft an artwork together
... or change dress...
... or draw ...
... or sing a song ...
And have fun with everybody else...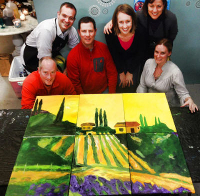 So we compete, laugh, have fun, and deepen our ties together.
The Networking game is a fast paced, networking event with rapid partner changes with funny activities. We have short 5 minute rounds but we insert longer 20 minute common activities sometimes. What can you expect? It depends on your needs and objectives. We not only serve you off the selves games but freshly designed games for you.
WHO IS IT FOR?
Since its rich Ice breaking capabilities the Networking is extremely good for new teams where the team members do not really know each other. It is wery good as a conference starter. We have remarkably good results in breaking up cliques.
WHAT IT GIVES YOU
Relaxing and funny experience, energy, platform to deepen ties to get closer together. Warm ups to start an intensive session. ,
HEADCOUNT
20 - 200 persons
LENGTH
2-4 hours